Define Your Home with a Beautiful Fence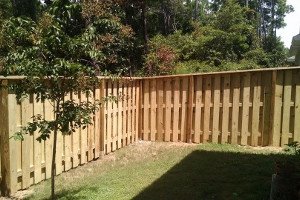 If you want your home to look stunning while enjoying a nice boost to its value, consider getting a deck built. And to keep your new your home protected (while further adding to its beauty), consider getting a fence installed.
If you want a deck or fence or both installed on your property, call All American Fence and Irrigation today. With our 20 years of experience and our A+ BBB certification, we have all the expertise and know-how to provide quality fencing work that you can depend on.
ENJOY YOUR OFF TIME THANKS TO A beautiful fence
After working another long, stressful day, it's nice to come home to a great place to relax. And with a sturdy, beautiful fence, you can have the best place to relax right in your own backyard.
For the sturdiest and most beautiful fence, have yours constructed by us. We use only the best materials and provide only the best service to ensure that you enjoy a beautiful, solidly built fence for many years to come.
MAINTAIN A BEAUTIFUL AND PROTECTED HOME WITH QUALITY FENCING
If you have pets or small children, you need to do what you can to keep them protected against the outside world -- not to mention against their own oftentimes wreckless selves. And for that purpose, you can't beat a quality fence.
For a high-quality fence, call All American Fence and Irrigation. We handle the entire process, from design to build to installation. And we are experts with three major kinds of fencing materials: wood, vinyl, and aluminum. So, no matter what kind of fence you need for your yard, you can depend on us to provide it.
GREAT ATHLETES ARE BRED IN CANTONMENT
Are you ready for some football? Or baseball maybe? If you are, you might have come from the quaint little town of Cantonment, Florida. The area has produced many notable professional athletes, including Jonathan Douglas, Fred Robbins, and Jay Bell.
But if you're more ready for a deck or a new fence than for anything athletic, you'll be happy to live in Cantonment. Thanks to the area's local fencing contractor at All American Fence and Irrigation, you can enjoy a high-quality fence or deck at a great price.
Latest Projects in Cantonment, FL
If you are looking for a Pensacola fencing or deck company then please call 850-324-2600 or complete our