Fence Off Your Home in Style with a Wood Fence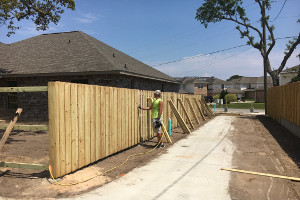 Wood privacy fences are our specialty, and all of our wood fences are custom stick built (meaning no pre-built panels). Building our fences this way allows for the use of full-size custom materials, not the cheap thin-walled material found in most pre-built panels.
Another advantage to stick built wood fences is the ability to roll with any type of terrain without the method of "stair-stepping" that leaves a gap at the bottom corner of each panel as that panel tries to traverse a slope. This custom fence craft approach ensures that your completed fencing is of the highest quality and durability.
Privacy fences are generally a minimum of 6 ft in height and can be custom built to 8 ft or 10 ft in both the stockade (boards are side by side) or board-on-board (boards overlap for no daylight) versions. The applications for wood privacy fencing can be multipurpose, visually blocking the view from the outside in or the inside out and for containment.
SHADOWBOX FENCES
Are you a good neighbor? Do you want to be? If so, consider a wood shadowbox fence. The general rule for fencing your backyard is to turn the finished side (or "good side," as some call it) to the neighbor.
When constructing most wood fences, the completed project presents two distinct sides. One is the framework and the other is the finished side. At All American Fences & Decks, we stick build our wood fences, meaning no pre-built panels. In constructing our fences this way, we have a great deal of flexibility as to the styles we are able to offer.
The shadowbox style is one of our most popular styles. Our preferred method for the spacing of the boards is 3 inches covered over by a 6-inch board. This is what the fence industry usually terms a "tight weave."
As with all our custom wood fences, we offer the shadowbox in a variety of unique styles: the Straight Dog Ear, the Scallop, and the Saddle cuts and a mixture of different size and style posts such as French Gothic, Dado, and Pointed Dado. Also available are three different species of wood: pressure treated pine, cypress, and Western red cedar.
CALL PENSACOLA'S WOOD FENCING EXPERTS FOR THE HIGHEST QUALITY FENCE CRAFT
Whatever your choice may be, you can trust the experts at All American Fence and Irrigation for all your fencing needs. With nearly two decades of experience and our promise to deliver the best work in the area, we can guarantee high-quality fencing construction work.
Benefits of All American Wood Fencing
We use 3/4 in. premium pickets which come pre-stained, pre-sealed, with a wax coating on the top and bottom to help with water intrusion
3/4 in. premium pickets are American grown and produced opposed to outsourced products from overseas
3/4 in pickets are less prone to warping, splitting, or cracking as opposed to standard pickets
These are better pickets than the standard pickets you see on 98% of other wooden fences
Different style options allow for lots of unique custom designs including but not limited too standard privacy, shadowbox, horizontal, and top rail
We are the number one fence crafters in the Escambia/ Santa Rosa county area
Wood Fence Construction Projects








If you are looking for a Pensacola wood fencing company then please call 850-324-2600 or complete our