Relish a Beautiful Fence in Daphne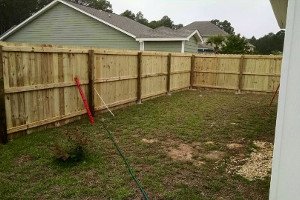 Your home should look great so that you can enjoy coming back to it and so that you can retain its property value. And to get your home looking as beautiful as can be, provide it with a quality fence built for your tastes and wants.
To get a high-quality custom-built fence or fence, call All American Fence and Irrigation. With over 20 years of experience, we have the know-how and expertise to get your home looking its best with a custom-built fence. If you want your home to look its best, call us today for our fence-building services.
ASK US ABOUT OUR CUSTOM FENCING
No home is complete without a fence. If you want to keep your children and pets safely contained, you need to get a quality fence for your yard. But a fence shouldn't serve as only a utility. It should also make your home look beautiful. And your home can look nothing short of stunning if you call us to custom make your fence.
We specialize in a variety of fencing types: wood, vinyl, and aluminum. Each has its own features and benefits, so no matter what your fencing needs are, we can meet those needs thanks to our resources, know-how, and dedication to providing quality work.
BASK IN QUALITY RELAXATION WITH A CUSTOM DECK
There's nothing like enjoying some drinks and downtime with friends and loved ones at the end of a long day or week. And to enjoy this wonderful time to the fullest, enjoy those drinks and that downtime on a beautiful fence.
To outfit your home with a durable, beautiful fence, call All American Fence and Irrigation today. We can custom-build a deck based on your needs and taste, and with our promise to use excellent materials and provide excellent workmanship, your new deck will continue looking great for years to come.
TAKE IN SOME QUALITY OUTDOOR TIME HERE IN DAPHNE
It's nice to get out and enjoy nature, and here in Daphne, you have more than enough nature to take in and enjoy. With its Centennial Park, Bayfront Park, and Village Point Park Preserve, Daphne offers many ways to get out and enjoy Mother Nature.
And with All American Fence and Irrigation, Daphne offers another way to enjoy nature right in your backyard. With a custom-built fence, we can help you take in all the natural beauty you could want safely at your own home.
If you need a professional fencer in Daphne, then please call All American Fence and Irrigation at 850-324-2600 or complete our