Make Your Navarre Home Look One-of-a-Kind with a Custom-Built Fence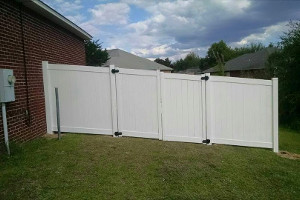 Your home is as much as part of your personality and identity as the clothes you wear and the music you listen to. For that reason, you need to make your home a unique and beautiful representation of who you are. And a great way to make your home look beautiful and distinct is to get custom fencing and deck work done.
And for quality fence and irrigation system work, call All American Fence and Irrigation. With our many years of experience and our dedication to quality work, we can provide your home with a beautiful, custom-made fence and irrigation system that will help make your home as distinct and beautiful as can be!
GET A BEAUTIFUL AND SAFE HOME WITH A CUSTOM FENCE
Your home should look great, of course. Who wants to display an unsightly home? Nobody! But the more beautiful your home is, the more you're going to want to protect it and everything within it. And for all-around protection, you can't beat a quality fence.
If you want a fence that is both high-quality and beautiful, call All American Fence and Irrigation. With a custom vinyl, aluminum, or wood fence, we can keep your home looking beautiful for many years to come thanks to our top-notch custom fencing service.
HAVE A WELL-DESERVED REST IN STYLE ON YOUR OWN custom-built fence
Adulthood is hard. It's mostly a non-stop sequence of driving to one point to make money to drive back to another point, sleep, and repeat forever. But life is not all work and no play: There is still downtime to enjoy. And to enjoy your downtime in style, spend that downtime on your own custom-built fence.
If your home does not have a deck, don't fret. You can still get the deck of your dreams by calling us today. We'll design and install a beautiful, sturdy fence to your specifications. With one of our custom-built fences, you'll enjoy quality relaxation time and your home will enjoy a nice boost in its value.
INDULGE YOUR LOVE OF FILM HISTORY IN NAVARRE
If you're a fan of movies and movie history, you'll love it here in Navarre. The area's beaches served as the filming location to much of the film "Jaws 2." If you want to stand where the stars stood and enjoy beautiful beaches, you need to come to Navarre today.
And if you want your home to be as beautiful as can be, you still need to come to Navarre. The area provides access to All American Fence and Irrigation, allowing you a great means of providing your home with a stunning fence.
If you need a professional fencer in Navarre, then please call All American Fence and Irrigation at 850-324-2600 or complete our