Enjoy Quality Protection and Relaxation with a New fence and irrigation system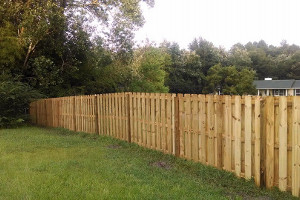 Here in sunny Pensacola, we enjoy our outdoor time. Once the warmer months hit, we practically live out in the sunshine as we enjoy quality time with our friends and loved ones at the beach or at one of the city's many great walking trails.
Of course, you don't have to sit in traffic and drive to the beach or a park to enjoy Pensacola's beautiful outdoor scene. Instead, you can enjoy it right in your own backyard with a quality deck! And for a top-notch deck, have yours provided by the experienced pros at All American Fence and Irrigation!
ENJOY THE SUNSHINE RIGHT AT HOME WITH A beautiful fence
A deck provides a place for you to unwind and enjoy the sunshine and the fresh air right in your own backyard. But a deck can provide more than just a hangout spot. It can also provide property value by adding more usable space to your home.
To fully enjoy the aesthetic and financial benefits that a deck can provide, have yours built by the experienced deck contractors at All American Fence and Irrigation. We have the experience and resources to design and construct a top-quality deck made to your exact needs and specifications.
BE A GOOD NEIGHBOR WITH A GOOD FENCE FROM US
No yard is complete without a fence. But just because a fence is necessary doesn't mean it should sport a utilitarian look. Your fence can be every bit as beautiful as it can be necessary and useful.
And by having your fence installed by us, you can enjoy the most beautiful and most durable fence around. We pride ourselves on using top-quality materials and providing excellent service, ensuring that your fence looks and functions like new for many years.
COME TO PENSACOLA FOR THE ARTS -- STAY FOR All American Fence and Irrigation
Pensacola is a hotbed of artistry. If you're a purveyor of theatre, you can catch quality live and professional productions at the Pensacola Little Theater and Saenger Theater, respectively. And for the lovers of visual arts, there is a buffet of museums to pop in and out of downtown.
But artistic immersion is not all that Pensacola has to offer. The city also offers quality fencing services thanks to the local pros at All American Fence and Irrigation.
Latest Pensacola Fence Construction Projects


Custom Fence in Pensacola

We were able to build and craft this custom horizontal fence. Horizontal fences are a great way to stand out in any neighborhood with their beautiful design. These modern looking fences can be customized to uniquely fit with anyone's aesthetic. Only skilled custom fence crafters can... Continue
If you need a professional fencer in Pensacola, then please call All American Fence and Irrigation at 850-324-2600 or complete our