Make Your Gulf Breeze Home Look Great with a New fence and irrigation system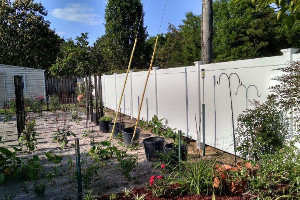 Nothing can beat downtime. After a long day of working and cleaning and otherwise being an adult, it's nice to have some time to not do anything but sit and relax. And if you want to enjoy your downtime to the fullest, you can't beat a deck right in your own backyard.
If your home currently lacks a deck, don't mourn the loss of this unparalleled way of enjoying your downtime. Instead, call All American Fence and Irrigation to get a custom-built fence for your home. And while you're at it, ask us about our quality fencing work. We offer a variety of fencing types to help protect your home while keeping it looking beautiful.
GET IN SOME SERIOUS RELAXATION WITH A custom-built fence
Aptly named, Gulf Breeze is a paradise for those of you who love a pleasant climate. In an area that's so beautiful and pleasant, you'll surely want to spend just about all of your downtime outdoors. And to enjoy Gulf Breeze's beautiful climate right in your own backyard, call us for a custom-built fence.
Our decks are made of high-quality materials, so they are made to stand strong and look beautiful for years to come. That durability and beauty combined with the usable space that decks provide means that a deck will add value to your home while also providing a great way to enjoy the weather.
ASK US ABOUT OUR TOP-NOTCH FENCING WORK
Of course, your home shouldn't be only beautiful and valuable. It should also be safe and protected against the oftentimes unpredictable world. Luckily, you can enjoy that kind of protection while still making your home look beautiful and valuable, and to do that, just call us for quality fencing work.
There are a variety of fencing types out there that all offer their own features and draws: wood, aluminum, and vinyl, to name three major ones. And we specialize in constructing and installing all of those kinds of fences, so no matter what kind of fence you want for your home, you can count on us to provide it.
GIVE YOUR CHILDREN A BRIGHT FUTURE WITH A QUALITY EDUCATION IN GULF BREEZE
Gulf Breeze is noted for more than just its beautiful climate and sights. It's also noted for its quality school system. With the Gulf Breeze Elementary, Middle, and High Schools, your children can get a great education throughout their entire formative years.
And here in Gulf Breeze, your children can also enjoy a beautiful home to go to every day after school thanks to the local contractors at All American Fence and Irrigation. We can keep your home looking top-notch with the custom fencing and deck work that we offer at a great price.
If you need a professional fencer in Gulf Breeze, then please call All American Fence and Irrigation at 850-324-2600 or complete our