Custom Horizontal Fence Project in Pensacola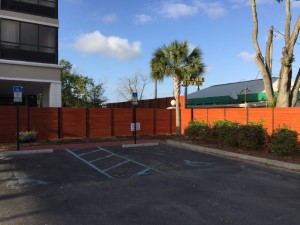 We completed phase 1 at the Holiday Inn in Pensacola, the owner was looking for a modern fence to both look good and add some privacy to the pool area. We used 6x6 posts and decking boards to achieve this project, finally we stained and sealed this fence to make it pop for years to come.
Project Details:
Customer Review:
Shawn and his team did a job at our place at Holiday Inn located on Davis Hwy in Pensacola FL. When I met Shawn I shared my idea of replacing our old looking outdoor swimming pool fence a with modern contemporary fence. He took my concept and made it even better. I wanted to share some pictures but google is not allowing me. Shawn and his team were very professional and their attention to detail is applauded. Shawn I thank you and your team for building a great fence work and I am looking forward to work with you again in our new projects.
- Parju J.
If you are looking for a Pensacola custom horizontal fencing company then please call 850-324-2600 or complete our