Try Out These 3 Tips for Maintaining Your New Deck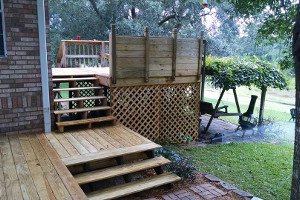 A deck is a beautiful, valuable installation for any home, but if left unattended, it can degrade. Once your deck degrades, it can lose much of its beauty, value, and even lifespan.
So, it's important to keep your deck in tip-top shape. And to keep your deck in that kind of shape, here are some steps to follow that will restore your deck to quality shape and keep it there:
BRING OUT ITS NATURAL BEAUTY WITH A STAINING
Natural wood is one of the most stunning options there is for constructing anything. But with age and wear, your wood's natural beauty might become obscured and faded.
Should your deck's natural wood have reached such a state, get it stained. A staining will help your deck's natural wooden colors and patterns shine once more, helping it to look new again in no time.
CLEAN IT UP WITH A PRESSURE WASHING
Since your deck is an outdoor installation, it will remain exposed to the weather at all times of the day or night. And this constant exposure can do some nasty things to your deck, leaving it stained, discolored, and teeming with unsightly growths.
If the weather has left your deck looking bad after enough years, you can get it looking clean and beautiful once more with a pressure washing. In just minutes, a pressure washing can undo years of natural damage, making your deck look beautiful once more.
PROTECT YOUR HARD WORK WITH A COAT OF SEALER
If you go through the hassle of pressure washing and staining your deck, you'll want the fruits of your efforts to stick around for a good, long time. And you can keep your deck looking clean and beautiful with a protective coating.
A protective coating will both preserve the cleaning you've provided your deck while also protecting against further damages. If you want your deck to stay looking beautiful, you can't beat a protective coating.
IN THE MARKET FOR A NEW DECK? THEN CALL All American Fence and Irrigation TODAY
A deck takes a little bit of work, but the work is worth it since you'll get to enjoy a beautiful place to relax right in your own backyard.
If you want a deck (even with all the work one requires), call All American Fence and Irrigation. We can provide a durable custom-built fence that you'll enjoy for many years.
If you are looking for more tips from a Pensacola fencing or deck construction company then please call 850-324-2600 or complete our