3 Reasons Why Vinyl Should Be Your Top Pick for Your Fencing Needs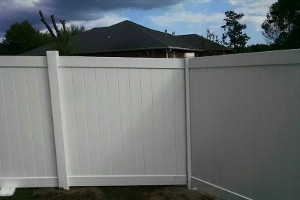 Your home is incomplete without a fence, but just because that installation is necessary doesn't mean you should settle for just any fence. Rather, you should want only a high-quality fence that will stand strong and keep your home looking beautiful for many years.
For a beautiful, high-quality fence, consider vinyl. A vinyl fence provides the necessary containment that your home needs, but thanks to its great features, a vinyl fence will prove to be one of your top picks for that purpose.
Not sure what those features are or if they're enough to compel you to pick vinyl for your fencing needs? Then just read on, and our quick guide will tell you exactly why vinyl just might be the perfect fencing option for you.
YOU'LL GET A DURABLE, LONG-LASTING FENCE
Being an outdoor installation, your fence remains at the mercy of the elements -- and the elements don't always show very much mercy. With the wind, rain, and intense heat, it's hard for most outdoor installations to continue standing strong for very long.
But that's not the case for a vinyl fence. This kind of fence is made from durable materials that are resistant to many of the harsher weather conditions. If you want a fence that will last for years, you can't go wrong with vinyl.
YOUR HOME WILL BE THAT MUCH MORE BEAUTIFUL
Since your neighbors are able to see your fence all day, every day, you need to have a fence that is beautiful as well as durable. That beautiful fence should also match the rest of your home's aesthetic so that you avoid any jarring clashing.
And when it comes to beauty, vinyl fencing is just about your best bet. Being able to emulate a variety of looks including natural wood and iron, vinyl fencing can make any home and design pop with beauty.
YOUR BANK ACCOUNT WON'T SUFFER FROM A VINYL FENCE
You might read the above qualities and think, "Well, there's no way I can afford anything like that." But that's where you'd be wrong: Vinyl fencing is not only one of the most durable and beautiful fencing options out there but also one of the most affordable.
If you want a fence that will keep your home beautiful and protected for many years to come and that will do so without breaking the bank, you can't go wrong with vinyl fencing.
CALL All American Fence and Irrigation FOR ALL YOUR VINYL FENCING NEEDS
Does a vinyl fence sound right for you now? If it does, call All American Fence and Irrigation to get your vinyl fence today. We promise top-quality customer service, so with us, you will receive a top-quality vinyl fence, guaranteed.
If you are looking for more tips from a Pensacola fencing or deck construction company then please call 850-324-2600 or complete our