Trex Transcend Composite Deck with a Built-in Koi Pond and a West View Manufacturing Gazebo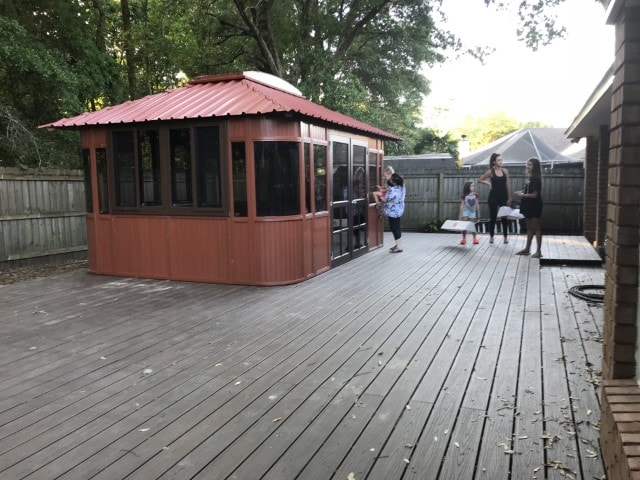 The customer had a vision of a deck with a built in koi pond. After assessing her yard I came to the conclusion that keeping up with her koi pond would be difficult with the many oak trees in her yard. After discussing the issue we came to the agreement that installing a Colorado-style gazebo would be the best solution to keeping the koi pond clean. We Customized the deck using Trex Transcend lumber and a hidden faster system, which gives the deck a cleaner look by hiding the screws. We added LED deck lights for ambiance and safety. Finally this 1200 square foot deck was completed and worthy of a wedding ceremony.
Project Details:
Customer Review:
The guys at All American Fence and Irrigation are FANTASTIC!! Shawn Carter showed us he wanted to know our vision for the deck, gazebo and Koi pond we planned for our backyard. We met several times to finalize the project. He always returned text or calls. Upon settling the project details, he introduced us to his team of experts and explained that they would be the on this job to completion. We never had to chase him or his guys down. They showed up when they were supposed to and completed the job in a fast and timely manner. Even when I had a "hickup" with the delivery of the gazebo, he communicated with their transportation specialist to see that it got to our driveway ASAP. The finished product is proof of his expertise. I highly recommend All American Fence and Irrigation and will be calling them to build a new fence in the back when finances are available. I also recommend Westview Manufacturing. The gazebo is Awesome!! From purchase to delivery, this company stood by us. Also like to recommend Pensacola Seed & Garden for recommending the perfect pond for our space. Really pretty at night with the lights Shawn had installed. Give All American Fence and Irrigation a call. We don't believe you will be disappointed.
- Karly R.
If you are looking for a Pensacola custom horizontal fencing company then please call 850-324-2600 or complete our